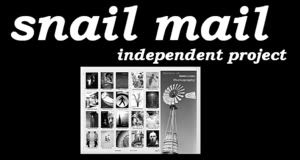 I am starting a new project. SNAIL MAIL. I am going to create a list of people who would like to commit to writing faithfully to someone each and every week. The letters are via snail and can cannot be electronically sent. The letters may contain anything you wish to tell this other person. You may know this person through LJ or various friends lists, but if you join this network you will receive a new person to write to each week. (and will receive wonderful snails as well). I would like this project to be consistent, so please only comment if you can commit to writing each week. Snails may be cards, letters, postcards, one line sentences, photographs (no crazy nudity, please) and anything else you like. My purpose for this project is mainly encouragement and perhaps a little happiness knowing you will have a snail crouching in your mailbox for you and only you. Comment if interested. The banner above should link to my e-mail address and please provide the following:

1) Name
2) Home address
3) Anything else of relevance

Please spread the word, copy the banner, link to my journal or e-mail address so we can gather as many people as possible for this project.

Thank you.